30 Jan

Mauldin Warns Advisors at #InsideETFs – You're Screwed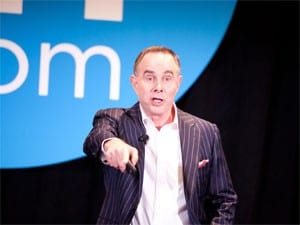 Inside ETFs wrapped up in Hollywood, Florida last Wednesday. Inside ETFs is the ultimate ETF conference, with 120 speakers, 1,700+ attendees. Inside ETFs offered critical macro insights and actionable portfolio strategies from the leading ETF institutions and ETF advisors.
A high point was the Tuesday Keynote from John Mauldin, New York Times best-selling author and publisher of Thoughts from the Frontline, a widely read investment newsletter. Mauldin is one of the most recognized investors, thought leaders and entrepreneurs in the financial industry. His talk about the global transformations in the works was … well, transformational.
His talk about how those transformations will impact advisors and the financial industry was scary.
Excerpt from the Financial Advisor story Mauldin Addresses Investing In Disruptive, Darwinian Age:
"If you are a pension fund trying to get a 6.7 percent return, there is a technical word for it," financial writer John Mauldin told attendees at the Inside ETFs conference earlier this week. "You're screwed."

Financial advisors who can deliver clients returns of 5 or 6 percent over the next decade without taking absurd risks will eventually be rewarded by their clients. "Half of you won't be in this business in a company that looks anything like the one you are in today," Mauldin predicted. "Past performance will be based on fundamentals that no longer matter."