13 Nov

Plan Your Your Post Recession Portfolio Now, Blumenthal Says on theStreet

CMG Capital Management Group CEO Steve Blumenthal was on theStreet to talk about preparing your portfolio for a recession now. Blumenthal was interviewed for the video segment (below); the story was also published on theStreet:  Consider These 4 Stocks For Your Recession Shopping List.

A recession is nearer than a lot of Wall Street analysts believe, said Blumenthal.  Investors should pick up shares of Alibaba (NYSE: BABA), China Mobile (NYSE: CHL), Sherwin Williams (NYSE: SHW) and the iShares MSCI India ETF (INDA)  when prices are depressed, said Blumenthal.
"Debt in the developed world is at a record high and we are seeing global trade and growth rates slowing," said Blumenthal. "That's a bad combination when valuations are so high."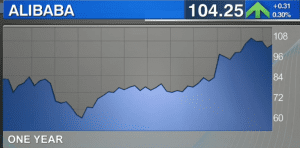 First on Blumenthal's recession shopping list is Alibaba. Blumenthal believes Alibaba, already the largest e-commerce company in the world, could double from here even though it is up over 40% since March 2016. The e-commerce segment in China in the next decade is going to grow 26% compounded according to a McKinsey study.
"Alibaba is approaching Amazon in becoming the largest cloud company in the world. It is the largest payments company in the world," said Blumenthal, "With the middle class in China being bigger than the population in the United States and Europe combined, they are well positioned to win."
Staying in China, Blumenthal is bullish on China Mobile, up 4.6% year-to-date. He said the mobile segment in China is projected to expand at 52% compounded yearly giving China Mobile an extended runway to grow.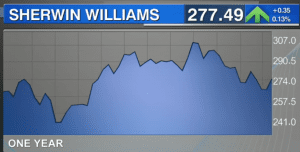 Sherwin Williams, up 7% thus far in 2016, is a far cry from a Chinese e-commerce or wireless play, but the paint producer will still thrive in the recession that Blumenthal sees on the horizon. He calls paint is a "fundamentally good business" with 134 million homes in the U.S. with an average age of 41 years. "Paint will peel," said Blumenthal. "They are going to need paint and the Valspar acquisition earlier in the year was a great move because Valspar is the leader in international global coatings so it was a good fit."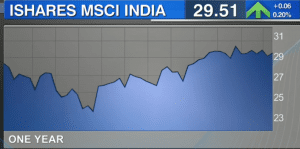 Finally, Blumenthal is a fan of the iShares MSCI India ETF, which has risen 7% so far in 2016. He points to India's most recent GDP growth rate of 7.4% as a reason to be positive, as well as the country having the lowest debt to GDP ratio in the developed and emerging market worlds. "When debt is low there is much more room to leverage up," said Blumenthal. "The developed world is at the end of a great debt super cycle and has to unwind. That slows growth. Meanwhile, the age demographics are outstanding and the quality of education in the country is high and the cost is low."