15 Jun

PR Week in Review 6/15 Trump, Bourdain, Blockchain, Twitter, Gaza
Donald Trumped by Kim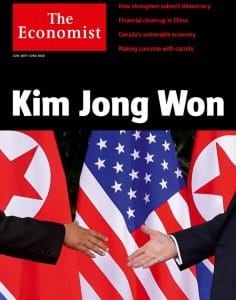 Trump must be the greatest PR huckster of all time. He regaled (or repelled) New Yorkers with crass self-promotion and shameless bloviating for decades. He couldn't buy his way into New York society but he sure can deceive wide swatches of the American populace with a dictatorial zeal for theatrics. Trump doesn't just suck the air out of a room, he manages to suffocate the world. He's relentless. He feeds on publicity. He creates the drama, then escalates and attacks. Have we ever seen a U.S. politician move with this kind of voracious need for attention.
He feeds on dark forces. The more litigation and self-dealing at his doorstep, the more energized he becomes. He pushes boundaries, and we adjust to the new and latest low. Witness this extraordinary paragraph from the NY Times, 6/15, 11:51 AM :
President Trump went on offense on Friday with a withering series of attacks on the F.B.I., congressional Democrats, Barack Obama, Hillary Clinton, Canada's prime minister, football players, the media, the special counsel and other favorite targets even as he hailed his relations with the leaders of North Korea, China and Russia.
I did not hear a single word from Kim praising Trump. We continue to be treated to endless plaudits from Trump about how wonderful and tough and smart the North Korean dictator is. Is that a strategy, or doesn't Trump know the difference between someone shopping for a condo and a dictator with nuclear weapons?`
I can't say the Singapore Summit was the news of the week. Since then we have Trump unloading Trade tariffs on China and the world, Manafort jailed, Trump Foundation sued by NY State and referred to IRS, Sessions and Huckabee Sanders pointing to the Bible as justification for separating families …and the week's not over.
In public relations we should exceed expectations, deliver more than we promise. This President does it all wrong and yet …
For guidance through this maelstrom I offer this from 10 Signs You Might Be Dating A Sociopath:
So what is a sociopath exactly? Characteristics include a persistent disregard for right and wrong, a tendency to lie and manipulate others, a lack of empathy and remorse, emotional volatility, an inflated ego, and engaging in impulsive and irresponsible behavior.
Anthony Bourdain
I'm in denial. I still don't believe he's gone. His life force was too intense to flame out like that. Then, maybe that was the only way. No half measures for Bourdain. I'm disturbed about how all this played out in the press and social media. Did images on the web trigger his suicide? The resurrection and suffering by Asia Argento playing out on Instagram is tawdry. Is that how we mourn now? On Instagram? If pain is not shared with millions is it really pain? Of all the tributes I read, and I read many, I still do, I still imagine what happened in those final hours, those final minutes, this is the most touching. I SEE A DARKNESS. Chef David Chang Pays Tribute to 'Uncle Tony' Bourdain: 'My Mentor and My North Star'
Blockchain Unleashed
I've seen perhaps three dozen blockchain infographics and just as many explanatory stories about the wonders and enormous potential of blockchain. Wired outdid everyone recently  with the story The Blockchain Will Rebuild the Internet as We Know It in its June issue, although for the life of me I can't find the story online.
There are a deluge of start-ups in the financial sector thanks to blockchain, crypto, ICO, alternative lenders, robo advisors, AI, #insurtech, #regtech  are popping up daily and competing for attention. There are so many disruptors that disruption has become blase' – he not busy disrupting is busy dying you might say. Excellent video from Reuters discusses some uses for Blockchain I hadn't imagined and does a good job of explaining what it's all about:

Blockchain believers eye a future beyond Bitcoin – 04:12 – Blockchain industry pioneer Amber Baldet discusses how the technology upon which Bitcoin was built could be implemented in a range of industries, potentially reshaping the global economy.
Twitter
Is Twitter "Promote Mode" worth it? Check out this analysis in Buffer Social. 30 Days of Twitter Promote Mode: Our Results, Analysis and Decision. Bottomline: Buffer Social did not re-up $99 per month Promote Mode although it did see benefits for accounts with less than 2K followers.  Medium found Promote Mode disappointing.  Sampson, a web developer who experimented with Promote Mode, was also not impressed. I guess that about does it for Promote Mode. Still looking for some decent way to promo on Twitter.
Hanging Loose in Gaza
GazaSkyGeeks, the first tech hub in Gaza, is worth mentioning because they exist. They have a nice website, a purpose, and they do good bootstrapped PR. Anything good coming out of Gaza is worth supporting.
© 2018 Mark Rose, Finsquared